Ubitec Bot Framework
Content-related work
Professional tools for content management.
No-code principle Real time preview Omni-channel
A bot framework has to do more than ensure technical operation. It is crucial to put the simplicity of the work in the foreground and to move the necessary complexity of the technology into the background.
Intuitive work with content according to the no-code principle.
The aim is to provide the people responsible for the content with a tool set to further develop the bot on a daily basis without technical resources. The Ubitec Bot Framework is designed to easily create bot content without any prior technical knowledge. Experience from user conversations can easily flow into the content.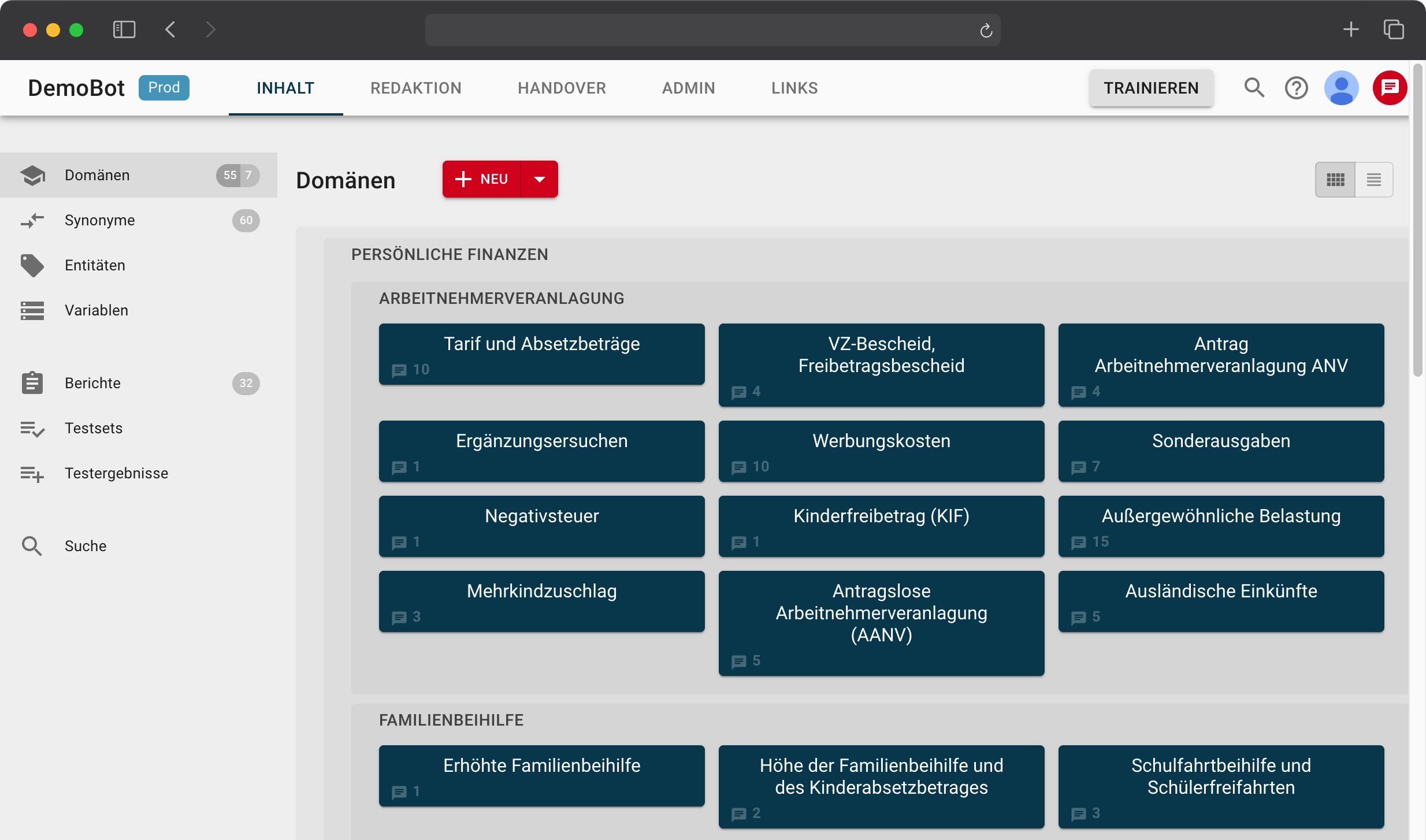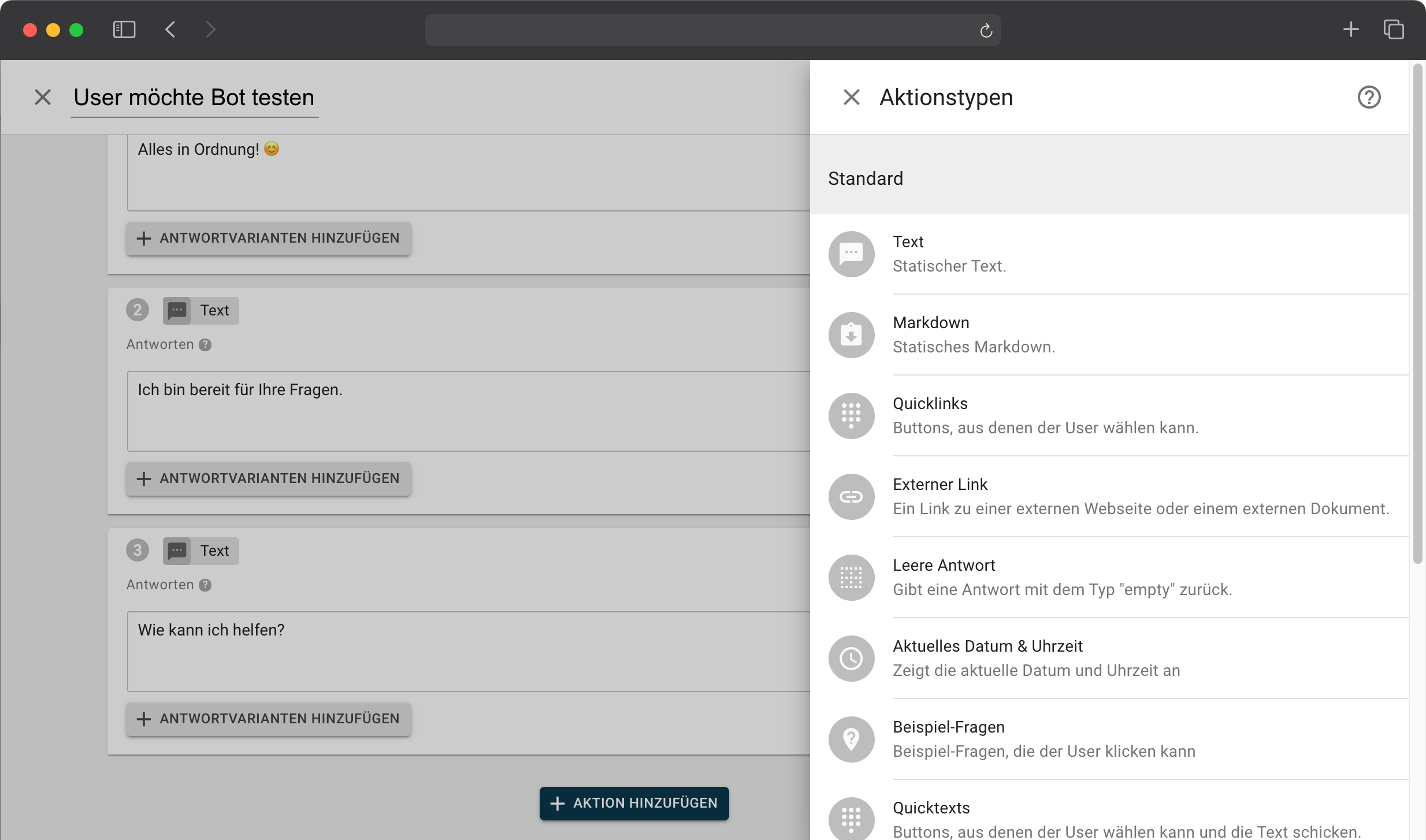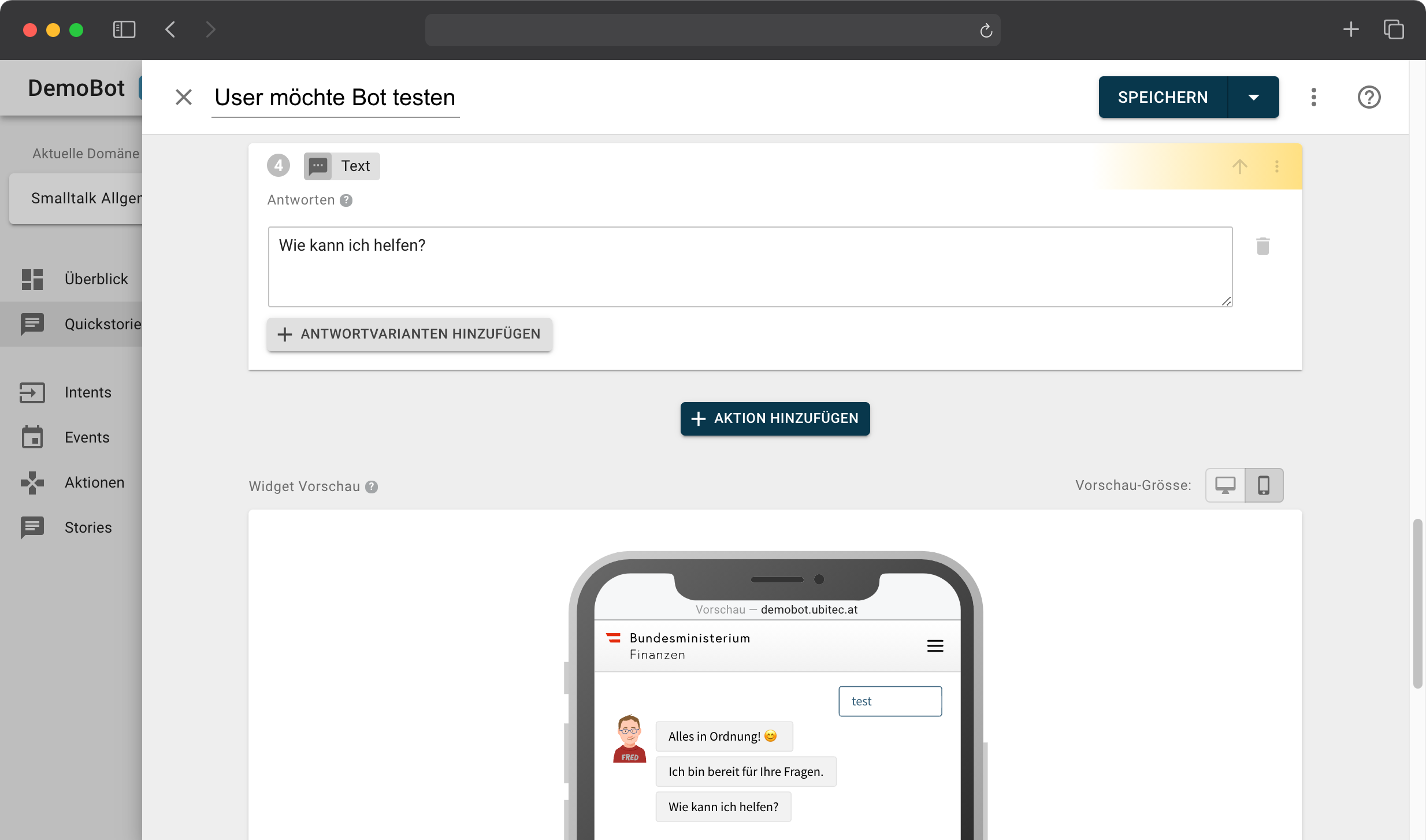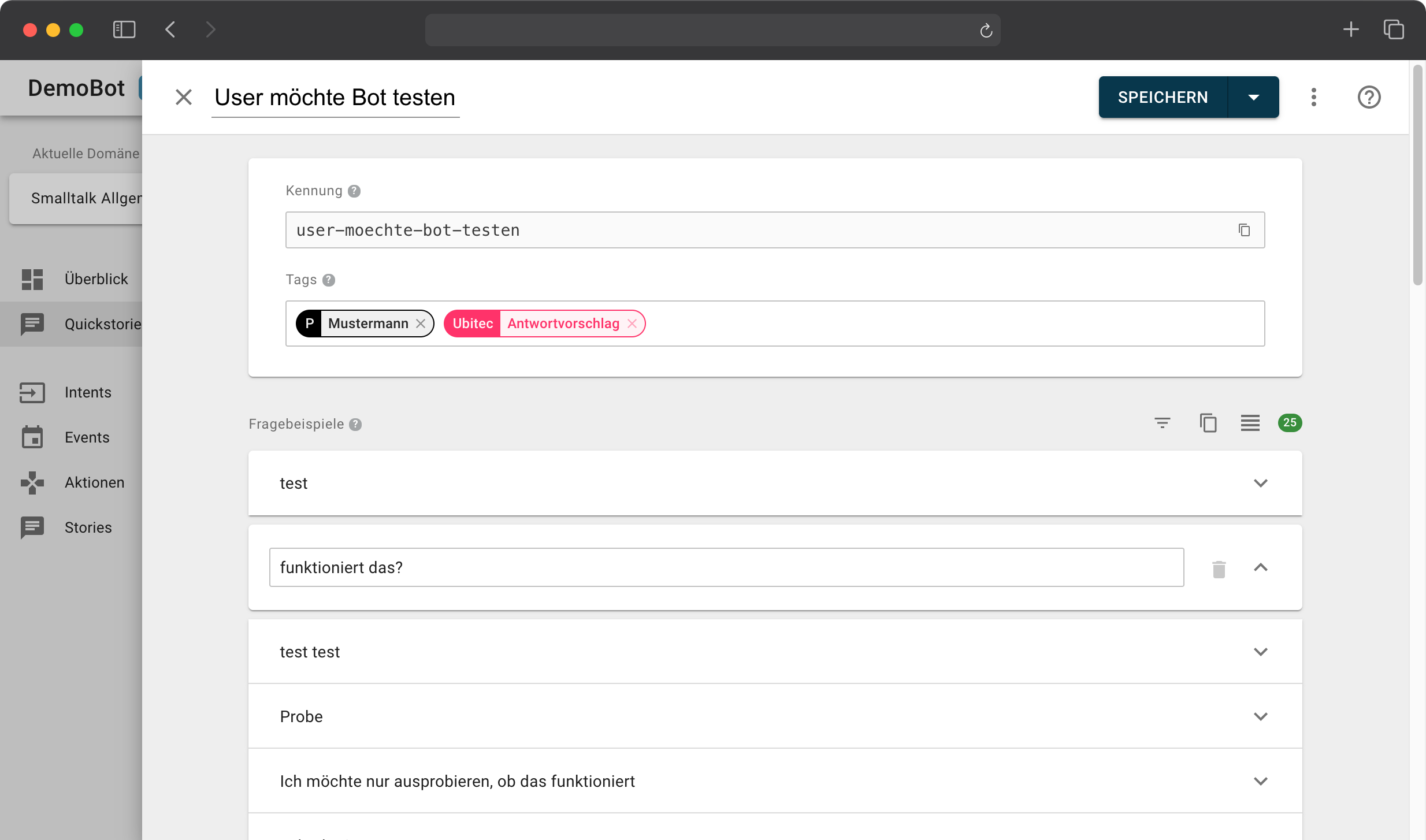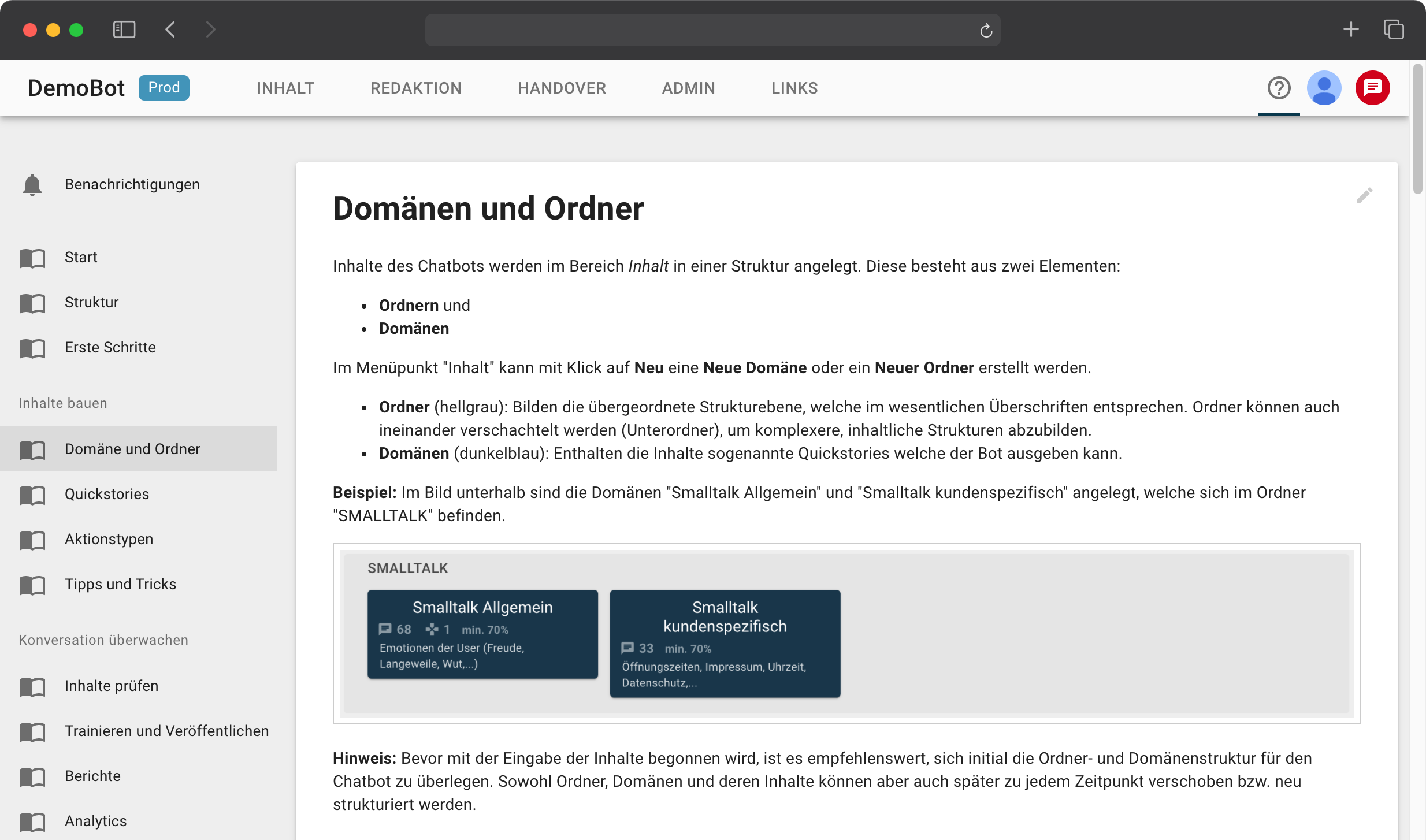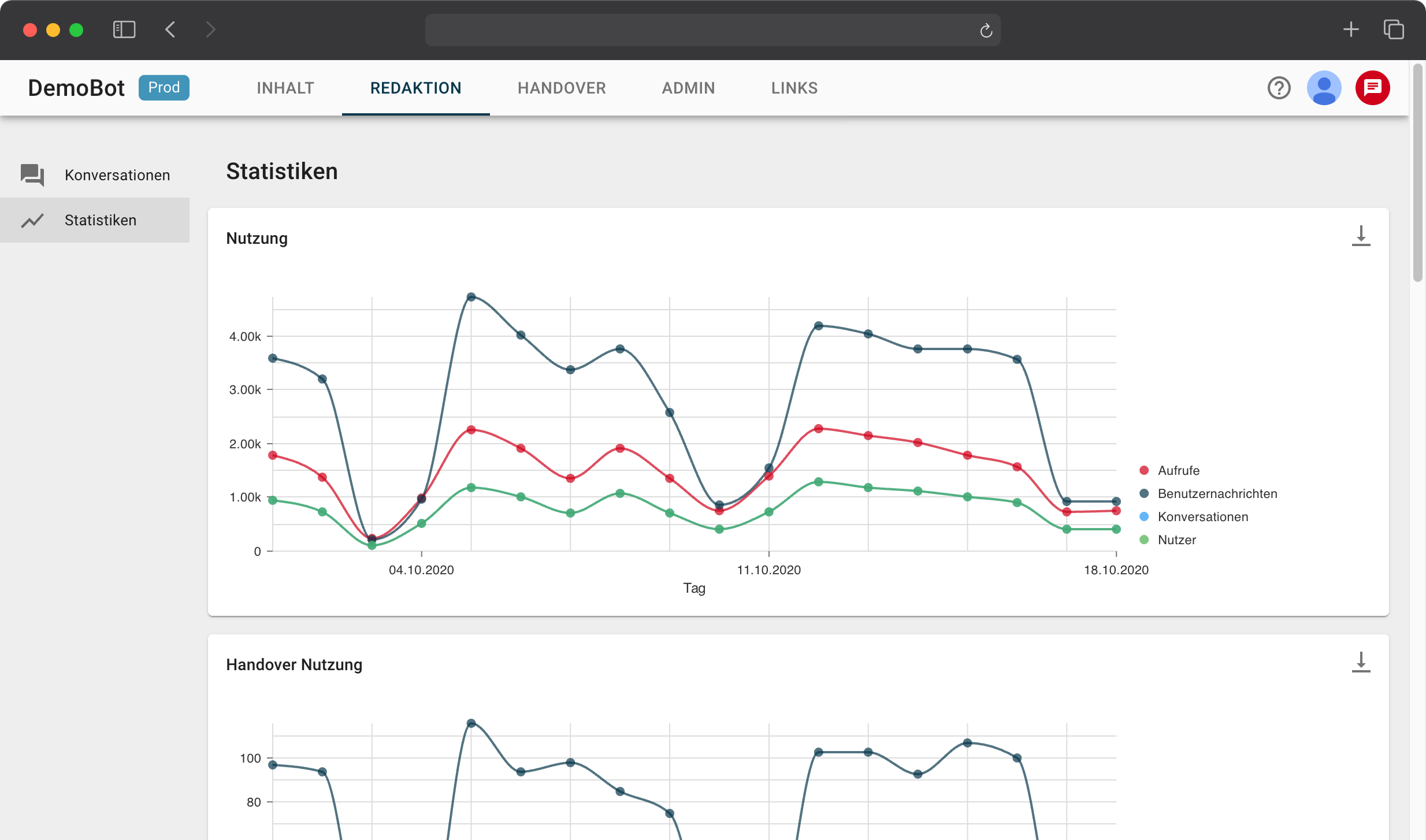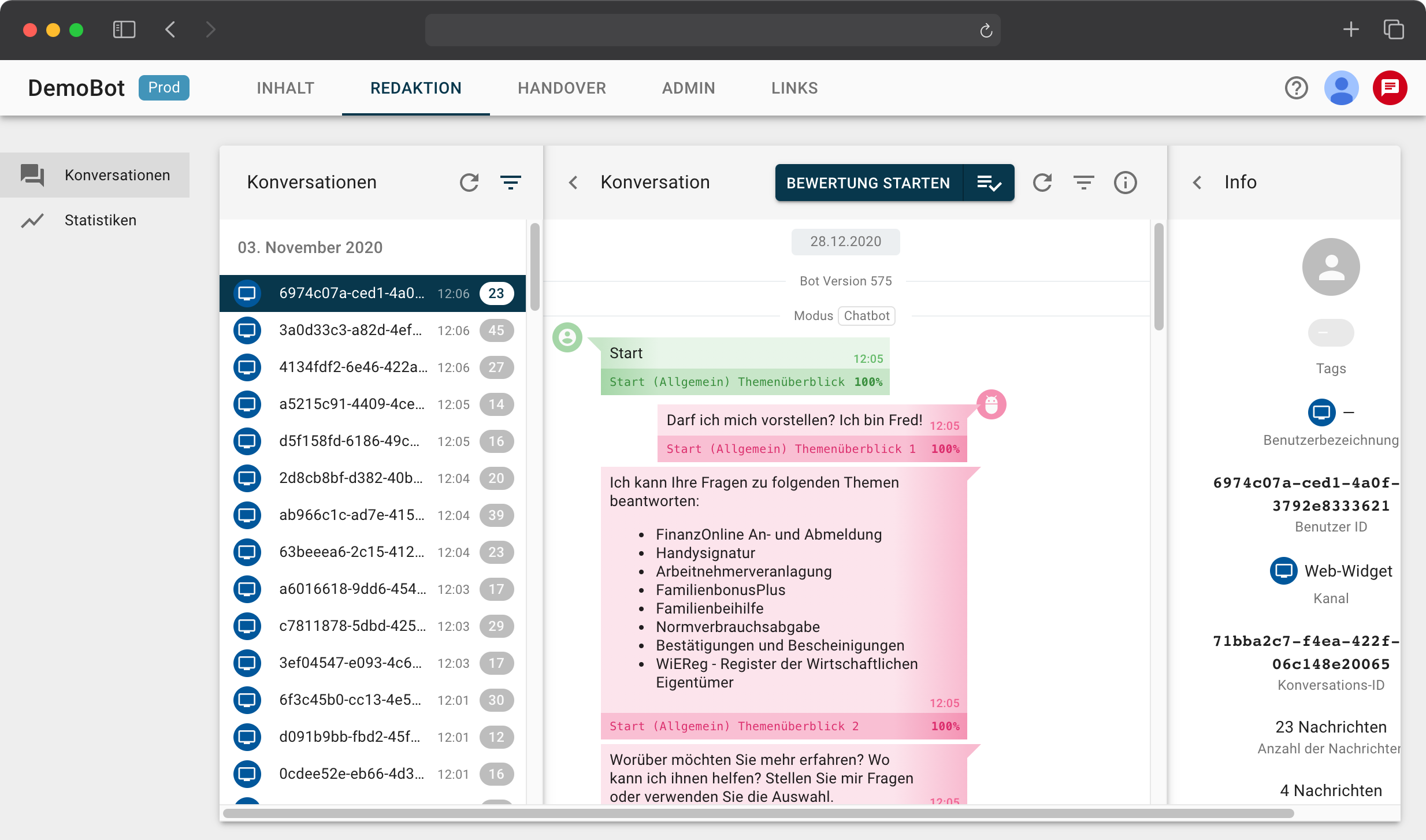 Full editorial life cycle
With the Ubitec Bot Framework, you have a large number of ready-made modules at your disposal, which can range from very simple question-answer constellations to complex dynamic answers. Both guided dialogues and pure free text-based content can be created in the blink of an eye.
Create chatbot content
Structure folders and domains

They serve to structure the content. According to the principle of a file explorer or a finder, knowledge domains can be clearly laid out and grouped in folders.

Create sample questions

Individual questions are created within a knowledge domain. In addition to the initial question, alternative questions must be created. These serve as training data for the NLU.

Check preview

While content is being compiled, a preview of the answer is displayed in real time. This allows you to check the final design when creating the content.

Create answers

Answers can be compiled from various prefabricated or customer-specific modules. From pure static text to graphically processed dynamic responses.
Improve content
Find relevant conversations

The relevant conversations can be filtered from a large number of conversations according to various criteria. You can filter by time, communication channels, confidence, handover or even user feedback.

Filter important content

A single conversation can be quite long. Especially when users are authenticated, it makes sense to use filters to remove all content that is irrelevant for processing.

Rating dialog parts

Individual questions that hit the wrong answer or no answer at all can be directly assigned to the correct answers or collected in a ToDo list for later review.

Create new training data

As soon as content has been created from the evaluation of conversations or new ideas, it can be trained to the bot. A simple click starts the training pipeline. Shortly thereafter, these are ready for testing.
Test and publish content
Trainings Pipeline

The pipeline performs the steps necessary for content quality assurance automatically and in the correct order. At the end of each training run, the positive result or a list of errors is displayed.

Content tests

Before new training sets are created, standardized or individual checks of the content are carried out. Duplicate question examples, links to external pages, validation of dynamic actions and much more.

Functional and visual testing

The automatic functional check ensures that the correct answers are given to the most important questions, even after changes. A final visual check is integrated in a test widget in the final design.

Publish content

As the last step of a content revision, content still needs to be published. This is also done in the same interface with a simple click without additional technical deployments.
No code principle
The creation, maintenance, monitoring and further development of chatbots work according to the no-code principle - regardless of the company's technical capabilities. The simplest possible interaction between editorial input providers and developers should not be neglected.
More helpful helpers
Omni-channel

Each part of a bot response can be customized for different channels, e.g. Voice or Text, can be unlocked. This means that a different answer can be given to the same question for each channel.

Test widget

Before trained content is made available to the users (put into production), it can be tested in a simulated environment in the customer design.

Global synonyms

Synonyms are a customizable and important part of the content. They allow a significant reduction in the necessary training data (question examples).

Tags

Tags are marks that help categorize individual content in addition to domains. This function helps to make content easier to find yourself or by others.

Media management

Text alone can be good, but the flavor of the content comes from the visual preparation. Media, such as images or videos, can be managed directly in the Ubitec Bot Framework for use in ready-made or individual response modules.

Hints

They are little helpers in the surface that give tips for the content work. For example, if question examples are very similar to others and they point to different answers, you will be pointed out.

Search

The search for specific content is an essential part. Especially when working on content in a team. Finding individual parts of text as well as tasks that have been marked with tags or content from the help is therefore quick.

Help

The extensive help not only explains the individual parts and functions of the Ubitec Bot Framework, but also gives tips for creating content. Customer-specific help pages can also be created.
Step by step
Are you sure that chatbots will be important for your company in the future? Perhaps you have already tested or used a system that does not meet all your requirements.
Let's find out together whether the Ubitec Bot Framework is a supplement or replacement for your requirements.
100% flexibility
Integration capability, data sovereignty and expandability.