Professional tools
the Chatbot-Editorial
Chatbot-Deployments
Chatbot Human-Handover
Chatbot-Dialogues
Chatbot-Analytics
Chatbot-Testing
Chatbot-Monitoring
for
We make content-work when building chatbots and other conversational products and services really easy, flexible with simultaneous data sovereignty.
On Premise Open & expandable Multi-NLU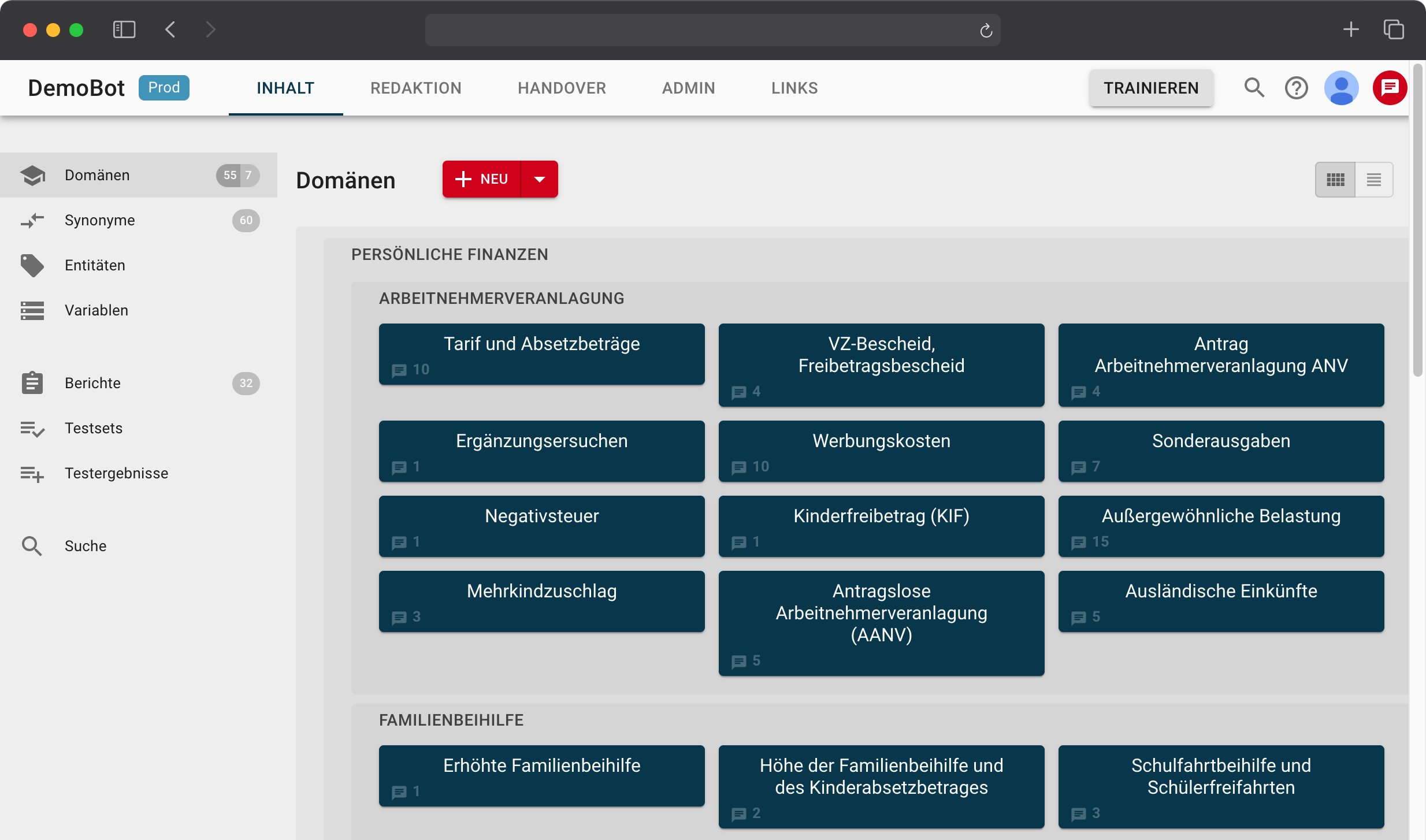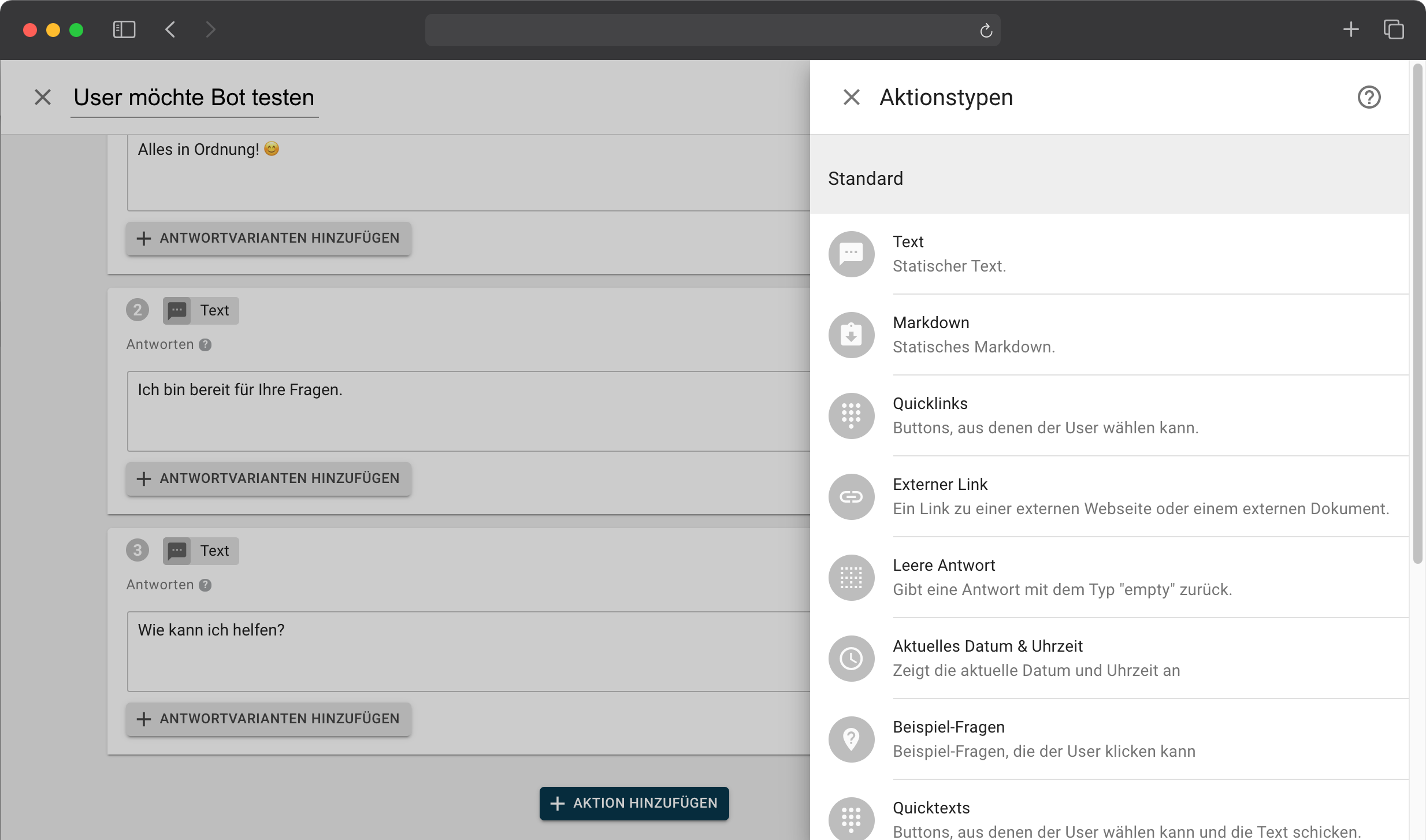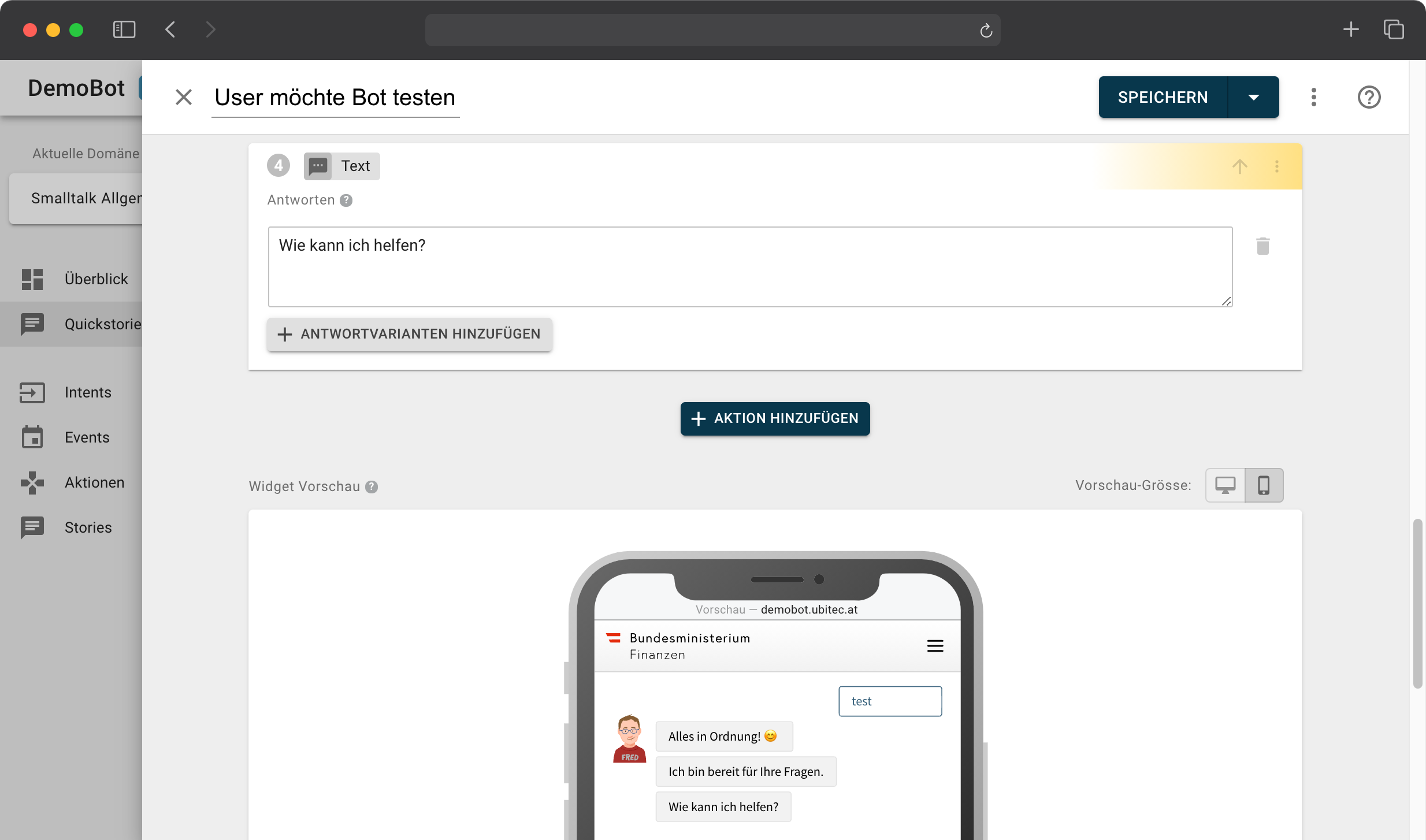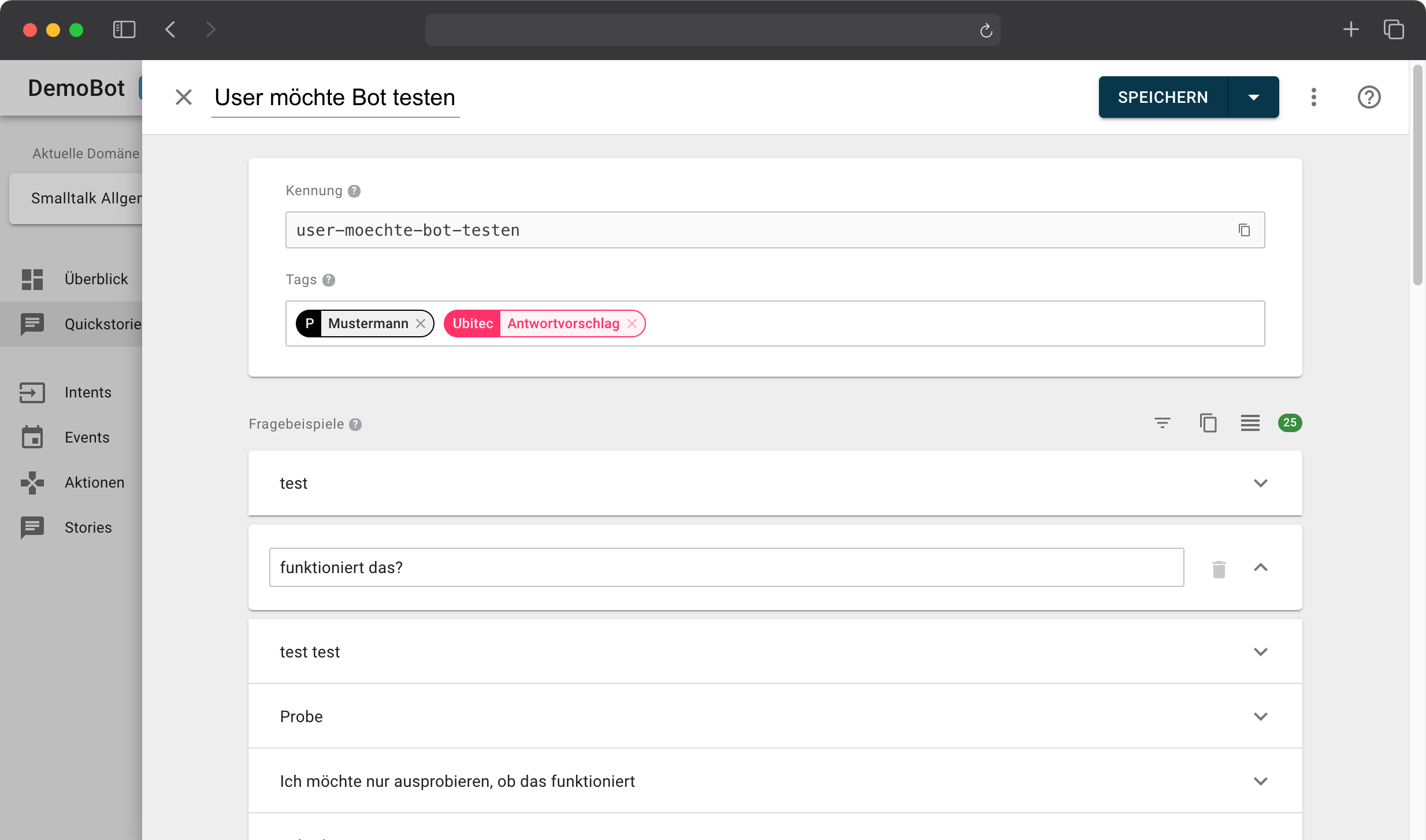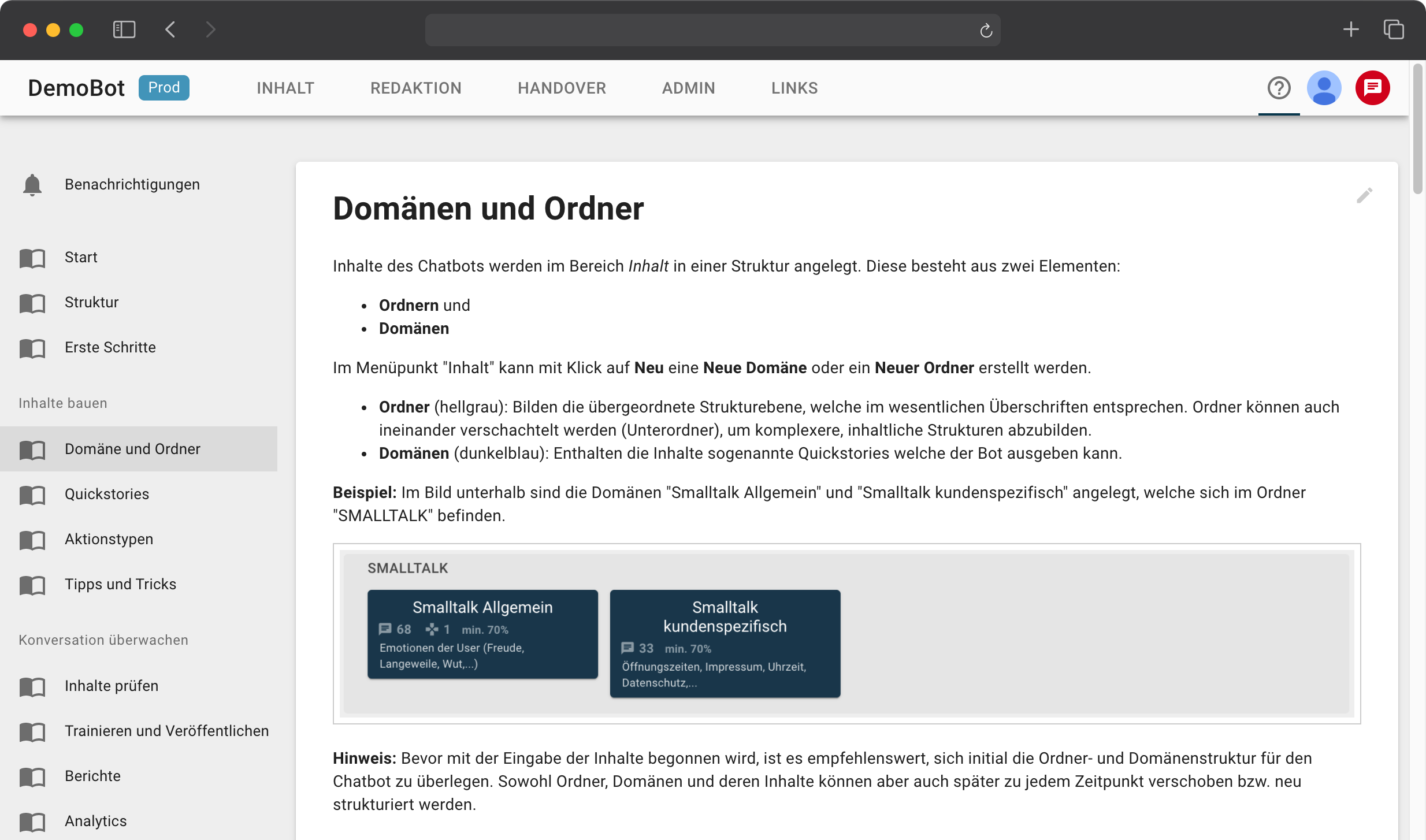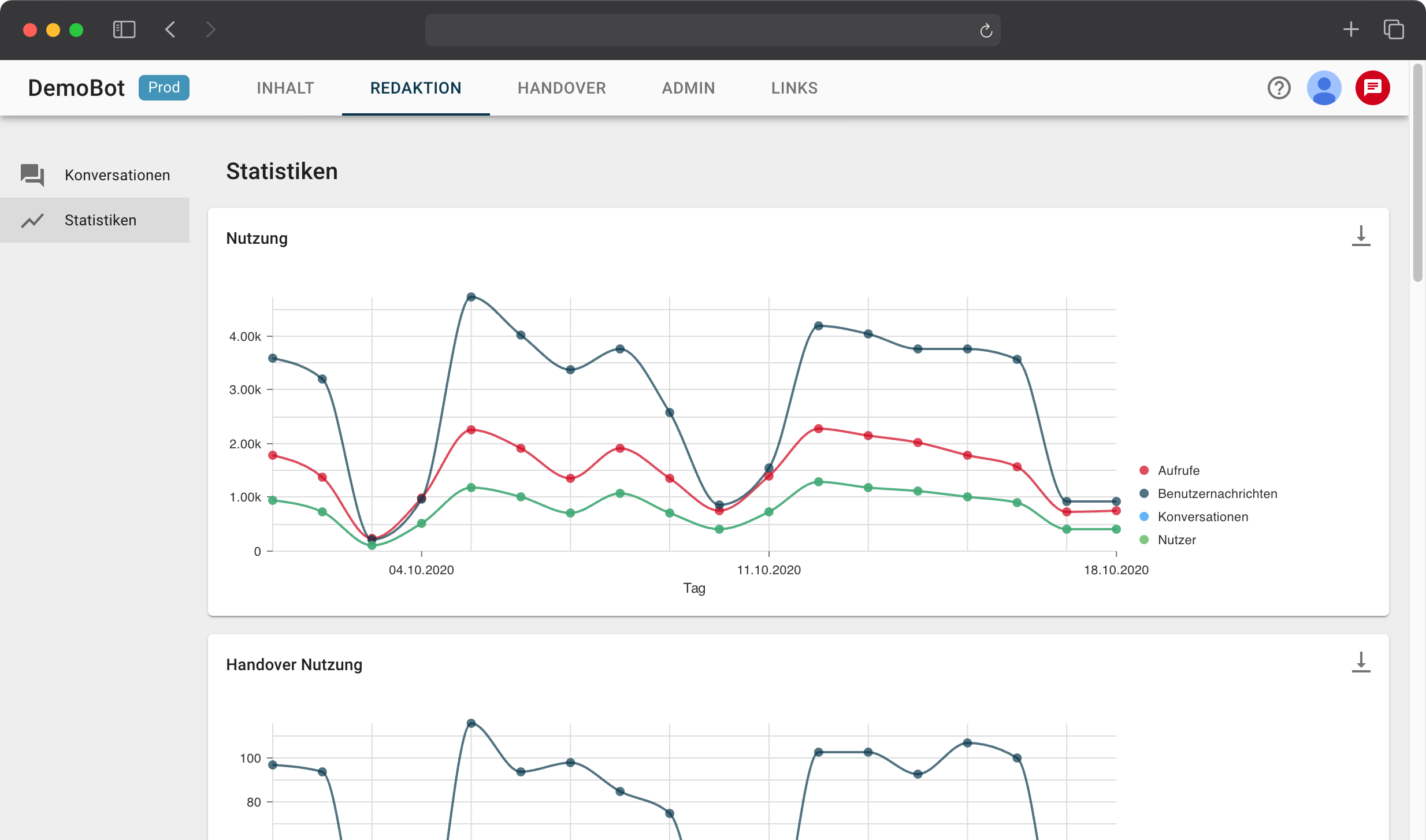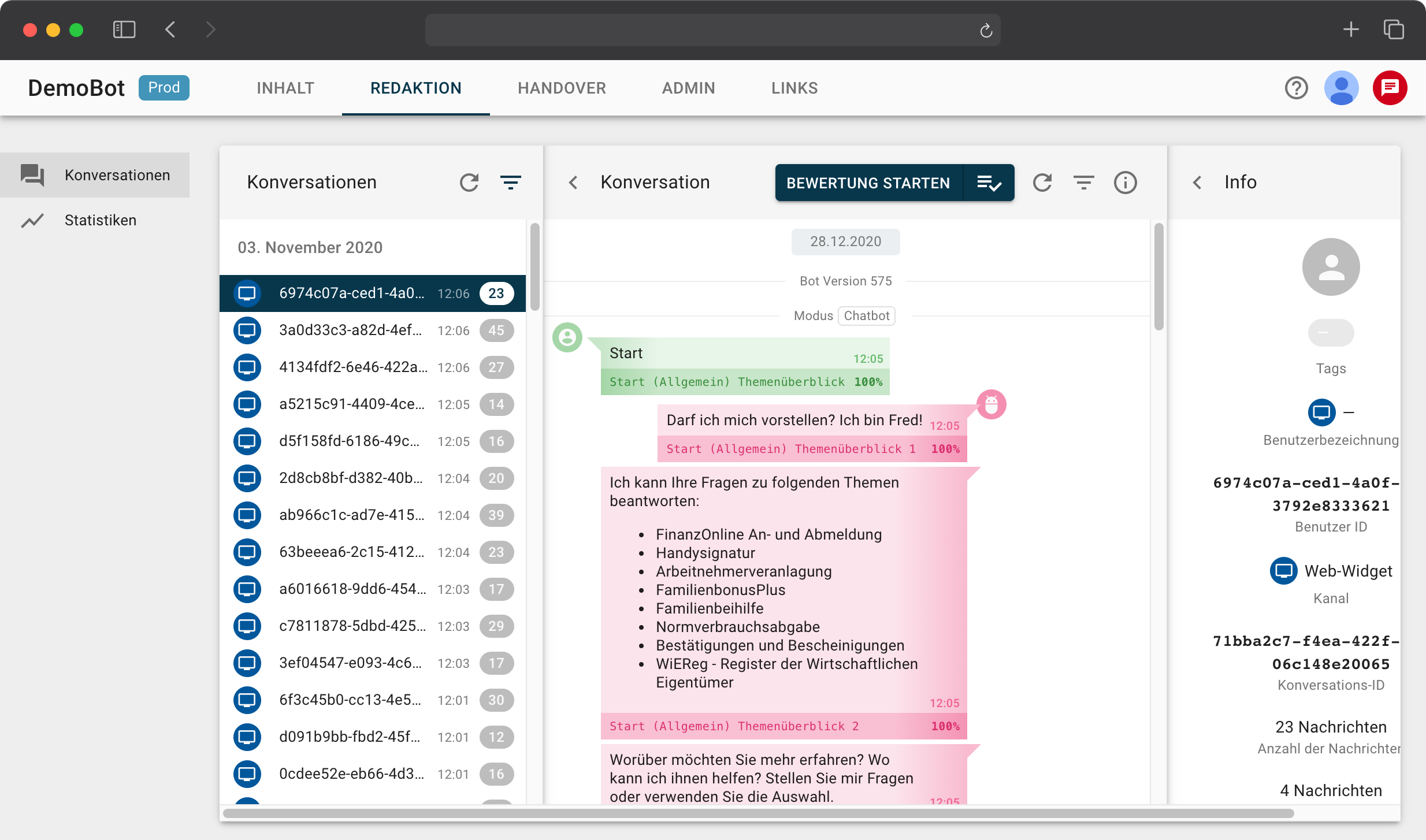 Everything you need
Ubitec Bot Framework
Our framework covers all phases of editorial work and technical facets of a chatbot - from building, to monitoring, to evaluating and improving.
Editorial interface

Create static and dynamic content and display it in the final design using the preview function.

Monitoring

To know at all times what is happening in the chatbot and where the content needs to be adjusted most urgently.

Rating

Clearly filter conversations according to priority and the possibility of rating their parts for improvement.

Publish

Try out new content in the final design and publish it at any time after completion without any technical effort.

Dialogue management

5 different ways of creating content, structuring dialogues and managing the conversation flexibly.

Testing

Important content is continuously and automatically checked for functionality of the tools and accuracy.

Handover

Transfer from chatbot to live chat with Ubitec Contact Center or connection of external applications.

Analytics

Clear presentation of the most important key figures and evaluations to improve bot content in a targeted manner.
CREDENTIALS
Fred - Federal Ministry of Finance
The FMF's «Fred» chatbot is an interactive helper for everything to do with FinanzOnline. Fred "speaks" to several thousand users every day and provides information on topics such as employee assessment, family bonuses or mobile phone signatures. Fred also supports User with questions relating to registration in the FinanzOnline portal.
Fred is available on multiple channels and around the clock. In addition to automated answers, Fred also gives his colleagues a human handover in a live chat. Service employees help personally with complex questions. At the same moment, Fred provides suggestions for answers to the service employees in order to support them in solving the problem quickly.
As a 100% digital helper, Fred is always at the side of FinanzOnline users with advice and action.
The FinanzOnline service team is constantly expanding Fred's knowledge, such as employee assessment, family bonuses and more.
A modern service channel that corresponds to the zeitgeist and is barrier-free and intuitively usable 24/7 by every age group. Integrated directly on FinanzOnline and usable on the move.
If "Fred" doesn't know what to do next, he can hand over to an employee in a live chat. They see the entire conversation, take over and answer the question.
Fred is constantly learning
In order to improve the service sustainably, Fred learns from the answers of his colleagues, so that he can answer even more questions directly in the future.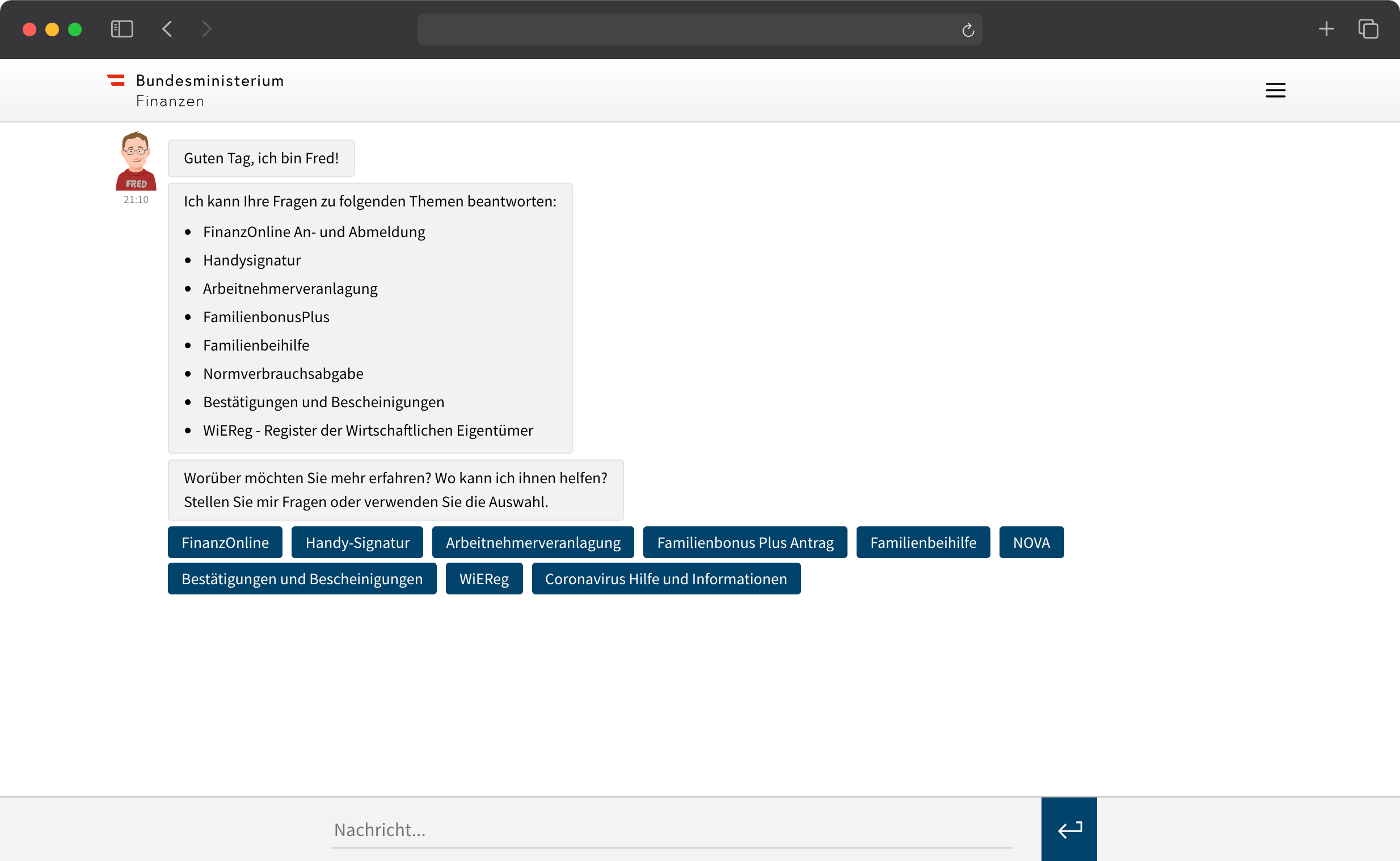 Frequently asked questions
What is a chatbot?
A chatbot is a text- or language-based dialogue system that allows an automated conversation between humans and machines.
How do chatbots work?
Chatbots can automatically recognize input from users using algorithms and return appropriate static or dynamically generated answers.
What are chatbots for?
Chatbots are suitable for the automated processing of frequent questions or recurring processes and also for pre-qualifying conversations.
Is the NLU crucial for the chatbot?
It's not necessarily. Much more important to the NLU and their quality are the training data and sample questions.
How much can a chatbot cost?
Chatbots for simple applications are available for just a few euros a month. Professional installations usually start at EUR 20,000.
How long does it take to implement a chatbot?
The implementation time depends largely on the content. If these are defined or available, a chatbot can also go online in 1 month.
100% future-proof.
Integration ability, data sovereignty and independence.