Reference
«WienBot» City of Vienna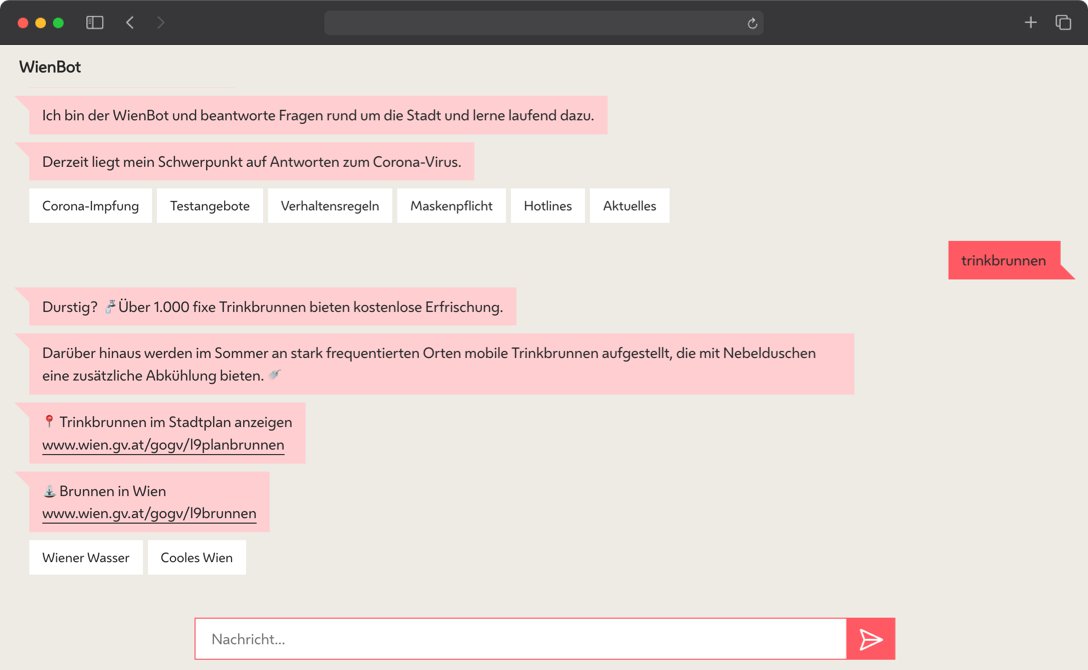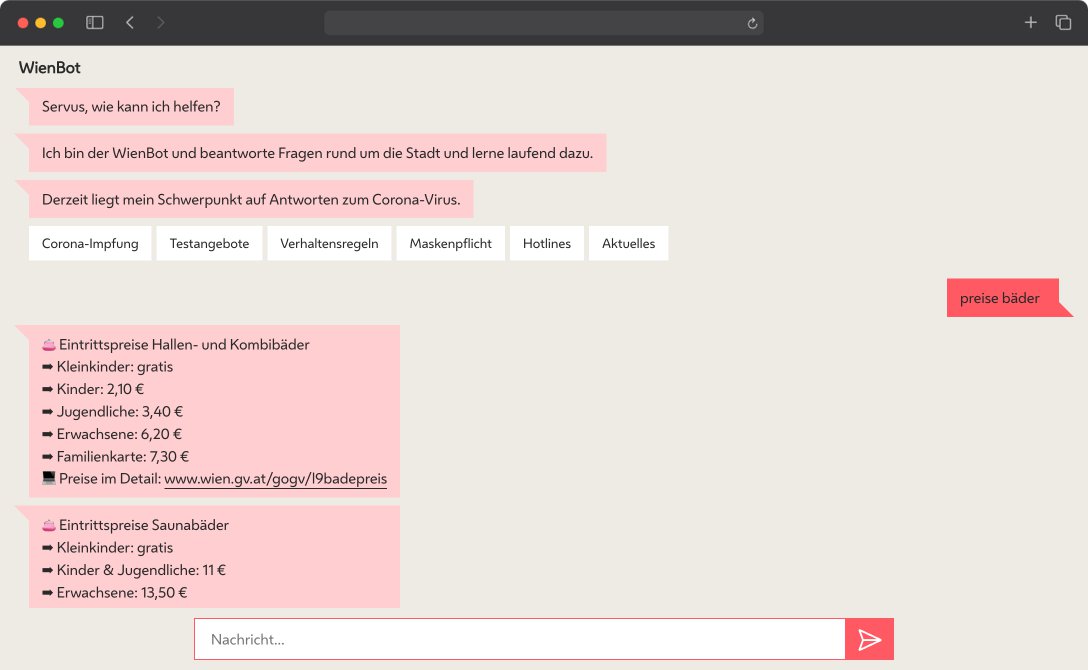 The chatbot "WienBot" of the city of Vienna answers questions on a variety of topics. For example, about district offices, locations of drinking fountains, route queries, parking or events, and much more. A list of the capabilities would go beyond the scope and it is best to go to Vienna, download the "WienBot" as an app and find out for yourself, for example, when looking for a public barbecue area.
The city of Vienna operates chatbots in a wide variety of areas. Both in the application process, in funding applications, in business registration or even in internal IT support. But the "WienBot" is certainly the most famous of them. The reason for this is that the bot is a showcase for digitization and communication initiatives of public administration across national borders. The "WienBot" has now become an integral part of city communications and also serves as an important information channel in crisis communications. The project also received an award for this.
Chatbot CMS
The goal was to provide the people responsible for the content with a toolset to further develop the bot on a daily basis without technical resources. The Ubitec Bot Framework is designed to easily create bot content without prior technical knowledge. Experiences from user conversations can be incorporated into the content just as easily.
Widget design
The widget was designed according to the look & feel of the city of Vienna. This means that the "WienBot" also remains in the customer design and there are no CD breaks.
Keyword system connection
The "WienBot" also contains a keyword system connection to get faster to the available results for the corresponding keywords.
NLU for traffic connection search
The NLU (Natural Language Understanding) also has a traffic connection search, which provides the user with suitable traffic connections and also learns.
Features
Digital Adviser

With the "WienBot", the City of Vienna offers a modern service channel that is in line with the spirit of the times and can be used by any age group barrier-free and intuitively 24/7, also via voice input and output.

Digitization

The City of Vienna is a digital pioneer. With the "WienBot," the city is taking another digital leap. An improved digital service channel that can convey content easily and quickly and is adapted on a daily basis.

Open Government

The bot uses Open Government Data. This includes geodata, data from the event database and the real-time interface of the Wiener Linien.

Questions & Answers

Whether questions about administration, route planning or general questions about the city of Vienna - the "WienBot" has the right answer.
Professional tools.
Take your chatbot to the next level.